Yarrow, British Columbia

Edited by
Esther Epp Harder, Edwin Lenzmann, and Elmer Wiens
Chilliwack High School, 1903 - 1949
Compiled and Written by Agatha Klassen
Chilliwack High School 1900 - 1935 | Chilliwack High School 1936 - 1949

Education in Chilliwack: Historical Perspectives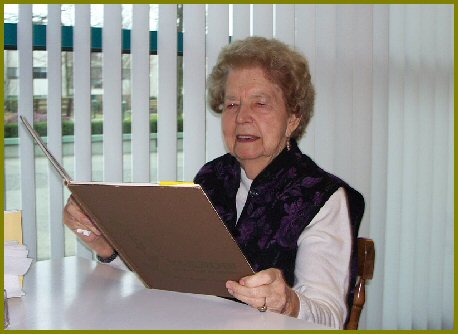 Agatha Klassen
Chilliwack Senior High School Librarian, 1969 - 1985
Chilliwack High School, 1936 - 1949
Chilliwack High School Musical Activities
The Senior High Years
The 1920's

FIRST ORCHESTRA
First mention of music in the life of the school is in the 1924 school annual.
At that time, there were two extracurricular orchestras which practised outside school time. These were conducted by Mr. J. P. Humphreys, an English Musician, who gave music lessons in town and later became associated with the Vancouver Symphony Orchestra. The eight members of the senior Orchestra were Beryl Banford, Ethel Robinson, Ethel Rogers, Marion Banks (Mrs. Sid Rowlands), Edna Day, Elva Denike, Gwennie McCutcheon, and John Hilbert.
There were 24 students in the Junior Orchestra. They apparently didn't appreciate practising in their own time and wrote that they "looked forward to the happy day when music would be a subject on the school curriculum" (that day was still about 15 years away).
Choral Music
There seemed to be no organized choral music in the 1920's, but two girls' quartettes consisting of L. Carmichall, N. Malcolm, B. Martin, I. Woodworth; and H. Burton, M. Muir, B. Martin and I. Woodworth sang (in the name of the school) at a number of local functions. There was no gym so they performed at the IMperial Theatre, They also put on a program to raise money for the starving children of Armenia. There was such a crowd, the performance had to be repeated a second night.
The 1930's

Choral Music Expanded
Choral music received greater emphasis in the 1930's when Mrs. Ethel M. Manford organized a series of Glee Clubs. The Glee Clubs, still the only music classes, met at noon and after school. Glee Club sessions were long and students often walked two or three miles home, barely in time for supper.
The grade 9's of those days had greater problems. They were housed at Chilliwack Central School. Most of the girls (inspired or browbeaten by older sisters) wanted to belong to the Glee Club. (It was a prestigious thing then too). If they survived Mrs. Manford's singing test, they were in. The trouble was that they had to run over to the brick building at noon (eating lunches on the run) to arrive "breathless and burping" for an hour of singing. Then, they had to run frantically back to avoid detentions for being late.
Some of the girls learned that it was possible to walk back leisurely, enjoying lunch, and to put on a spurt of speed just as Central School came in sight — the teacher couldn't see past the corner and he only gave detentions if you weren't running when he looked out the window!
However, all the effort was worth it when the annual spring concert finally arrived.
These concerts were striking performances with about 50 Glee Club members all in white gowns and Mrs. Manford in some exotic colour. (It was always fun to guess what she would wear!) Even so, The Boys' Glee Clubs usually stole the show!
The concerts were frequently combined with dramatic presentations or operettas, folk dances, and gymnastic displays.
One of the spectacular programs was the musical play, "The Prince Who Was A Piper," presented in March, 1933. Lyle Turney was a great success as the flute-playing prince. The audience didn't know that he couldn't really play the flue — and the music came from someone else back stage!
---
| | |
| --- | --- |
| | |
---
Chilliwack High School — 1938
Senior Matric Class
Girls' Basketball Team
Max Stewart (Coach), Audrey Lowther, Jeanette Davis, Marjorie Johnston, ______, Dorothy Osborne,
Florence Lubin, Edith Price, Renee McFarlane, Frana Osobrne
Famous Team that Beat U.B.C.
Junior Boys' Basketball Team
---
Chilliwack High School — 1939
Senior Football Team
Junior Basketball Team
---
— — — The Chilliwack Progress, Wednesday, April 19, 1939 — — —


Excitement Marks Start of New School Set-up
Life began at 8:30 Monday—school life, in a new sense of the term. Fifteen minutes later the doors of the new $53,000 junior high school swung open for the first time. In the next fifteen minutes boys and girls from every nook and cranny in the district poured into the building, set it alive with a hum of excited chatter.
School authorities expressed themselves as well satisfied with the way the big task of re-establishing 600 pupils had been carried out. The shift from one- to seven-room country school houses to the new 16-room school was accomplished with a minimum of inconvenience and difficulty.
"Many of the children appeared to be very nervous. A number of them wrung their hands almost tearfully and wondered in which rooms they belonged," commented Principal Wilfred G. Graham. They were exceptionally quiet, very obedient, and didn't give us any trouble to speak of. None of them were late, although three of the students couldn't find their way about," he reported.
Almost 400 students are centered at the junior high, where there are located six classes of Grade VIII and five classes of Grade IX. Theentrance classes each have 35 students; there are 36 in each of the five first-year classes.
There are 220 Grade VII students at the Central School, all of whom come under the jurisdiction of the junior high scheme. Six classrooms of 39 pupils each have been reserved at the city's elementary school.
All seven of the school board's new fleet of buses pulled out Monday morning to pick up municipal students. Some shifting of schedules and minor alterations in routes is probable before the transportation system is working perfectly.
"Sardis students are still holding to the bicycle as a means of getting in to school," one of the bus driver told The Progress. He explained that although the majority of pupils from other centers have used buses in the past, students from the Sardis are continued to bicycle. Monday morning the bus picked up only one-quarter of the number of pupils anticipated. "They are still using their bikes," was his comment.
Pictures were taken of students leaving school and getting into the imposing array of buses following school Monday afternoon.
Teachers at the new school advised their pupils of rules of conduct in and around the school immediately after assembly of classes Monday. Municipal; students will not be permitted to go downtown at noon without a written excuse. They will eat lunch in specified classrooms—about 240 of them did Monday.
Teachers at the new school are Principal Graham, Kenneth Jameson, Clarence Carroll, Russell Osborne, John Ferguson, Miss Keith, Miss M. Elliot, Miss Eversman, and Neill MacGregor of the high school staff have their "home" rooms in the building, while Miss Dorothy Keenleyside, Lipton McCutcheon and Archie Annis alternate between teaching at Central School and the junior high. At Central School, instructing classes under the jurisdiction of the junior high set-up, are Principal Harold K. Manuel, Murdoch Maclachlan, George Auld and Wilfred Burgess.
Clarke Brannick, high school area board chairman, said yesterday that the buses were confortably filled, with an average of 40 to 50 students travelling in each bus.
---
Chilliwack High School — 1940's
CJSS Study Hall
CJSS Music Class
CJSS Home Economics Class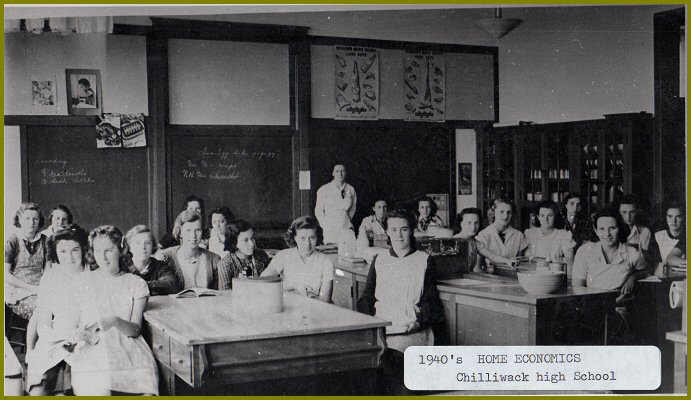 Junior-Senior High School Student Clubs — 1940
Each student registered in the school is required to become a member of one of the clubs sponsored by a member of the staff or student leader. The clubs usually meet on Wednesdays, from 3:20 - 4:00 pm, and as long thereafter as students wish as there will be no afternoon homeroom period that day. Members of certain clubs are selected from those who apply. Each student will make a first, second, and third choice as there may be too many applications for some clubs. The student clubs, the grades eligible, and the nature or aim of the group are as follows:
- Agriculture - 9 - 12 Experiments, visits, discussions, talks.
- Business - 9 - 12 - Business and secretarial practice, speaking.
- Camera - 9- 12 - Photographing, developing, printing, enlarging.
- Chess - 8 - 13 - Studying, playing, tournaments, senior and junior.
- Collectors - Collecting and mounting natural specimens.
- Craftsmen - 9 - 12 - Making, operating stage and school equipment.
- Dramatics - Jr. 8 - 12 - Play production, properties, school concert.
- Dramatics - Sr. 10 - 13 - Play production, properties, concert, radio.
- The Forum - 9 - 12 - Public Speaking, current events, problems.
- First Aid - 10 - 13 - Training and practice.
CJSS Metal Work Class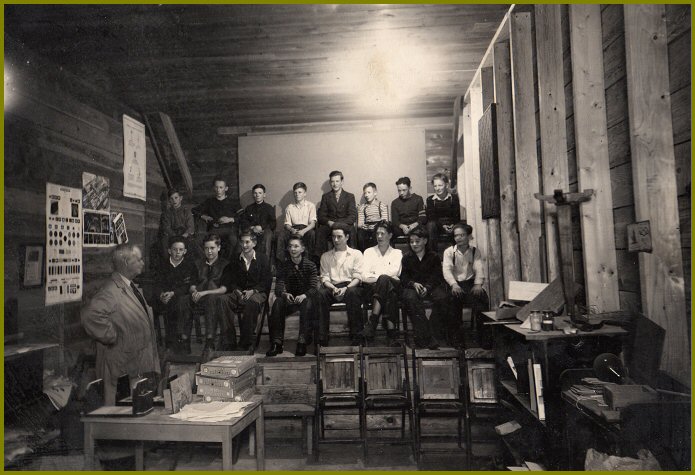 CJSS Industrial Arts Class
---
School Music Becomes Part of the Curriculum
When the junior high school was built in 1939, music finally became part of the school curriculum.
Room 108 was the music room with the latest in music furniture — tablet chairs.
Music teachers at that time included Miss Dorothy Keenlyside, Miss Edith Higginson (for grade 7 students at Central School), and George Glass.
During this time our school choirs won numerous honours at Fraser Valley Music festivals.
We also enjoyed the distinction of having a student conductor, Howard Denike, for our orchestra. Under Howard's leadership, the orchestra received awards on many occasions. There were about 20 orchestra members.
It was hilarious the night Howard was mistaken for the teacher and the teacher was mistaken for a student. After that, we boasted that we had two student conductors (Howard and Mr. R. L. MacDougall).
Howard went on to become a music teacher in Victoria, and his assistant Andy Snider is a C.B.C. producer in Vancouver.
Dance Bands and other informal groups were also popular in the 1940's. Gordon Mitchell, Peggy Mortison (Hannah) and Dorothy Kerr (Prentice) were active in these activities.
---
Mr. N. H. MacGregor
CHS Agriculture Teacher — 1935-1969
Mr. N. H. MacGregor, the man responsible for the Chilliwack Senior Secondary School agrarian revolution, has said his final goodbye to teaching.
The completion of this school year brings 34 dedicated years of teaching at CSSS to an end for Mr. MacGregor, but marks the beginning of a retirement life on his 30 acre farm here in the Fraser Valley.
Born and raised in Manitoba, Mr. MacGregor moved to British Columbia in the late twenties and graduated from high school in Rosedale. He later returned to a Manitoba university and earned a degree in agriculture — never seriously thinking of a teaching career.
With a shovel full of youth and a degree in his satchel, Mr.. MacGregor had the world before him, but in 1935 he accepted a teaching position at the old CSSS school across the road. He was given an outdated agricultural program which he soon brought up to date.
World War II caused him to abandon his plans temporarily, and join up in the Royal Canadian Air Force, He flew supplies 'over the Hump' to Burma, against the invading Japanese. He returned to Chilliwack in 1946 and continued teaching.
Mr. MacGregor spent the next few years studying the agricultural program of the United States, and when the new CSSS school was built in 1950, he created his own version of a practical agricultural program.
Today, Mr. MacGregor has built up the agricultural department with new equipment and techniques to a strong foundation for CSSS students planning to become farmers of the future, or who desire entrance in vocational training.
Mr. MacGregor considers teaching as, a "consumer of nervous energy, which must be given many hours of attention."
Chilliwack's economic staples come from agriculture and agriculture comes from Mr. MacGregor.
---
Sudents Start Farm Projects as Part of Agricultural Class — 1940
- An eductional project which is still in the first stages of experiment is going on quietly at the Junior-Senior High School, where a member of the staff, Neil MacGregor, is developing an agricultural program which has widespread possibilities.
- At the present time, in a class of 17 of grade 10 students, six are going into poultry flocks, three amy grow registered barley, and two are branching out into growing certified seed potatoes. The last member of the class is taking up mink farming.
- The projects are part of a new course in agriculture being taught at the school, and are conducted under Mr. MacGregor's watchful eye. Needless to say the parents are watching, too.
- A careful record of expenses is kept by each student.
- It is hoped, of course, that each project will be a financial success and the ideal situation exists when the boy graduates from the school with a going proposition on his hands, plus two years'experience in the proper conduct of his proposition.
- MacGregor visualizes the time when students, for instance, who are raising hogs, may have enough of them to ship a carlot out of the district at a time. He endeavours to procure the best markets for student-grown products. Naturally, he says, it will be some time before the results of the whole scheme will become evident enough to draw conclusions, but in the meantime he is forging ahead with the plan and is pleased with results to date.
---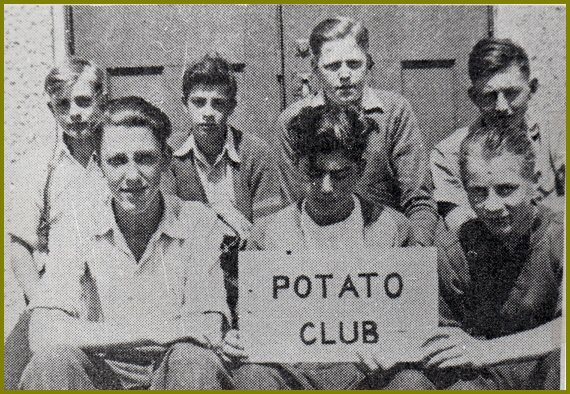 ---
Chilliwack High School — 1942
CJSS Annual — The Frontiersman
Frontiersmen
Early settlers went forth with high courage and resolute hearts to conquer new worlds — worlds fraught with uncertainty.
Now, in 1942, CHS students are called upon to take the roles of modern frontiersmen. They stand at the threshold of turbulent and troubled times. Like the trail breakers of old they, too, will devote their energies, their lives, to the establishment of a better world.
Chilliwack High School — 1942
Air Cadet Inspection in Front of School
Chilliwack Progress, Wednesday, February 11, 1942
M. Stewart Believed Drowned
Popular High School Teacher Reported Missing at Sea
Tragic news to many a friend and former pupil was the report this morning that Pilot Officer Max M. Stewart, popular high school teacher, was missing and believed drowned at sea.
No other details of the mishap have been received here, but it is believed that he may have lost his life while crossing the Atlantic to England in convoy.
Pilot Officer Stewart, a teacher here since 1934, enlisted in the RCAF in late October 1941. With two other teachers, Neil MacGregor and Allan Kirby, who enlisted aat the same time, he received a tremendous ovation from several hundred pupils and friends when he entrained for the East for duty with the RCAF.
Last letters received by friends arrived here in late December from the Maritimes.
One of the most popular teachers the school has ever had, Pilot Officer Stewart was also highly regarded at the University of British Columbia, where he starred in English rugby and track and acted as president of the men's athletic association in his senior year. He was a member of Pi Kappa Sigma fraternity.
News of his drowning was received by his father, A. M. Stewart, at Grimsby, Ontario. A brother, N. A. Stewart, is also in the RCAF.
---
Chilliwack High School — 1943
Chilliwack High School Staff
Chilliwack High School Student Council
Some Names of Council Members
Back: Margaret May, Dorothy Graham, Biddy White
Front: Don Johnston, Martin Dayton, Henning Jensen, Howard Denike, Mr. C. Carroll
Message from the Chilliwack High School Graduates
Collage of Student Activities and Clubs
World War II Impacts CHS Students
CHS Air Cadets
CHS Army Cadets
A Toast to Tomorrow
Beyond the war clouds of our time
An age of peace is looming,
And we shall make this age sublime
By early careful planning.

So look not back on past mistakes
When great men met the test,
They did it all for our sakes
Thinking their choice the best.

This toast is not for lands at war
Or men so fiercely fighting,
This toast is for a great deal more
When peace is pathway's lighting.

Tomorrow — that's the toast today,
That faith will never cease
It will bring forth a better way,
Love, happiness, and peace.
— MARY CAMPBELL
Memories of Chilliwack Junior-Senior High School
September 1942 — June 1943
by Doris Clarke
---
Chilliwack High School — 1944
Mr. J. C. McGuire — Principal
September, 1939 - June, 1944
From the 1944 Frontiersmen Annual
Given Life Membership
Teachers Group Honors Miss Jean McNaughton
A life of service to education was honoured at the final meeting of the year of the Chilliwack District Teachers' Association Monday when Charles Ovans, general secretary of the B.C. Teachers' Federation presented Miss Jean L. McNaughton with an honorary life membership in the B.C.T.F.
A record of good service to the Federation and an unbroken membership of at least twenty years are the two requirements of life membership both of which, and much more, Miss McNaughton has fulfilled. She joined the Federation in 1921, two years after it was formed and has been a strong supporter ever since.
Taught Here Since 1923
Born and raised in B.C., Miss McNaughton taught for several years at Matsqui before she came to Chilliwack in 1923. Thousands of Chilliwack Valley pupils have come under her kindly guidance over the years. She specialized in teaching English and Drama.
"It is a very happy and proud occasion and a privilege to grant life membership in the B.C.T.F.," said Mr Ovans. "Her long membership has been especially notable because until recently membership in the organization was voluntary."
Mr. Ovans joined the teachers and her many former pupils in expressing the hope that she will have many more years of happiness.
Senior Girls' Basketball
Back: Elaine Delisle, Mary Montgomery, Alice Kelly, Audrey Anderson, May Roberts
Front: Mildred Smith, June Brett, Miss Joan Hudson (Coach), Lois Selbee, Barbara Johnson

Senior Boys' Basketball
Back: Dave Hinds, Dick Hipwell, Claude Creelman, Don Hoskins, Clayton Martin, Kendall Martin
Front: Len Butchard, (The Archibald Cup), Mr. G. W. Graham (Coach), Keith Hannah

Inter-house Sports
Fire at the Junior High School
---
Chilliwack High School — 1940's
CJSS Science Laboratory — 1944
CJSS Art Class
CJSS Gymnasium Classes
1944 — Two classes, girls and boys, sharing the same gym floor are featured above.
They cannot follow the prescribed courses as the limited space makes many activities impossible.
Basketball, formerly the chief means of recreation is no longer played because each class has only one basket,
making any attempt at the game impossible.
CJSS Library — 1944-45
CJSS Students in the Hall — 1945
CJSS Junior Soccer — Mr. Ferguson, Coach
---
Chilliwack High School — 1945
Senior Matriculation Graduates — 1944-45
David Hinds — 1944-45
"There Be Stars There"
Senior Girls Basketball — 1944-45
Back: Donna Rideout, Doris Thompson, Alice Kelly, Collleen Dickie
Front: Kay Plant, Shirley Brooks, Pat Roberts
Students' Council — 1944-45
June Brett, Eddie Anderson, Donna Rideout, Don Hoskins, Pat Forbes,
Mr. C. S. Carroll (sponsor), Len Butchart, Eileen Curnin
---
Chilliwack High School — 1946
C.H.S. Staff — 1945-46
C.H.S. Junior Operetta: "King KoKo's Isle — 1945-46
C.H.S. Grade 9 Folk Dancing Froup — 1945-46
Mission Folk Festival, May 1946
Helen Lawson, Miriam Creelman, Phyliss Nelson, Marion Baldwin, Irene Fotheringham
Verna Bellamy, Ruth Noren, Doreen Blankenship
Pat Clarke, Anne Menzezoff
C.H.S. Senior Clubs — 1945-46
C.H.S. Girls' Fastball Team — 1945-46
Dorothy Chung (catcher), Jewel Johnson (pitcher), Doris Thompson (first base)
Mildred Smith (second base), Audrey Lewis (third base), Kay Plant (short stop)
Barbara Trehearne (left field), Annette Hopkins (centre field), Gladys Olsen (right field)
C.H.S. Senior Boys' Basketball Team — 1945-46
Walter Bradshw, Don Johnston, Ed Frank, Ron French, Ed Welick, Walter Ling,
Don Cameron, Ernie Bailey, Paul Tebbut
C.H.S. Senior Girls' Basketball Team — 1945-46
Shirley Brooks, Kay Plant, Nancy Cameron, Joan Weeden, Joan Gibson, Miss Joan Hudson (coach)
Lois Wheaton, Doris Thompson
---
PEACE! World War II Is Over! PEACE!
PEACE! World War II Is Over! PEACE!
---
Chilliwack High School — 1947
G. W. Graham — CHS Principal 1945-50
Principal's Message to the Class of 1947
These are the days of amazing scientific discoveries. The term, "Atomic Age," although it has become familiar to every household, still holds us in awe, when we stop to consider its terrific implications. Every field of science and industry is advancing at an unprecedented rate.
Changes in society, its customs, its precepts, and its ideals come very slowly. There is no sudden "Eureka". May we feel that throughout your high school years the encouragement to become a responsible, conscientious citizen of this world has given you a solid foundation for opinion.
I take this opportunity to extend wishes for success to the Graduation Class and to commend them for the fine record they have achieved during their High School years.
G. W. Graham
C.H.S. Staff — 1946-47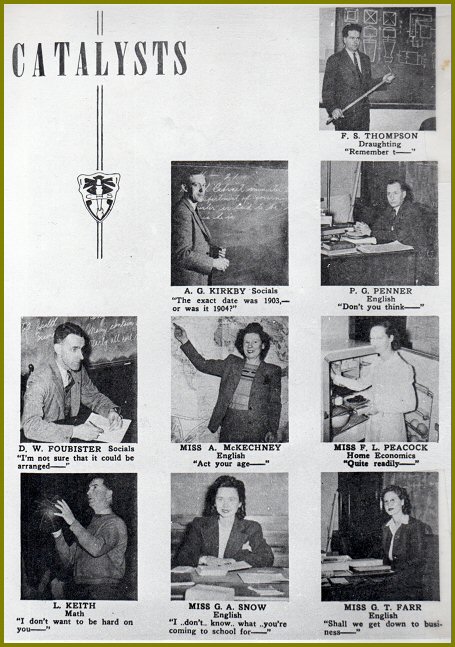 C.H.S. Pep Club — 1946-47
Led by Eva French and Rena Bradwell, the 30 members lent moral support at the games, and even if the teams didn't win, we had something to be proud of in the boys and girls in their high school sweaters with the big gold letters spelling our CHILLIWACK.
Navey Eton caps awith C.H.S. on them and saddle-shoes added to the uniformity. Many sappy new yells and a new High School song were introduced by this cheerful group.
C.H.S. Junior Boys' Basketball — 1946-47
C.H.S. Boys' Rugger — 1946-47
Back: Bob Jess, Bryan Peel, Orville Cohrs, Don McFetridge, Jack Logan, Frank Jackman
Front: Frank Neads, Jim Earle, Art Hooker, Bob Gillanders, Jack Trudgain, Roy Thomson
C.H.S. Fashion — 1946-47
C.H.S. Orchestra and Band — 1946-47
---
Chilliwack High School — 1948
C.H.S. Annual Board — 1947-48
C.H.S. Student Council & House Cabinet — 1947-48
The school was divided into four Houses: I, II, III, and IV
The House Cabinet, under sponsorhsip of Miss Forrest and Mr. Dyer,
planned all House activities. Sports reps were
Marion Baldwin and Johnny Reimer.
C.H.S. Drama — 1947-48
"All The World's A Stage," saith the Bard
---
Chilliwack High School — 1949
C.H.S. Annual Dedication — 1948-49
C.H.S. Student's Council — 1948-49
C.H.S. House Cabinet — 1948-49
C.H.S. Girls' Basketball — 1948-49
Back: Miss Forrest (Coach), Leona Hannah, Patsy McMann, Loise Pilot, Margaret Penner
Front: Jean Hallam, Joyce Enger, Betty Kimmel, Gerry Saxon
C.H.S. Boys' Soccer — 1948-49
Back: Mr. Andres (Coach), John Cameron, ______, ______, ______
Middle: Bob Geldart, Jack Fotheringham, Morley Usher, Bob Henderson
Front: Alex Armitage, Garry Toop, Ken Enger, Leon Philips
C.H.S. Clubs — 1948-49
Provincial Track and Field Meet — 1949
C.H.S. Track and Field Meet — 1948-49
| | |
| --- | --- |
| | Copyright © Elmer G. Wiens: EgwaldTM Web Services All Rights Reserved. Inquiries |