Visit Yarrow's Artists At Work in Their Studios
1. Rainforest Pottery — 4718 No. 3 Road Yarrow BC


The Rainforest Pottery is in the old building on #3 Road (near the bend at the dyke) that used to be the Sun Ripe Berry Plant.

The photos show the sign out near the road.

They have classes to teach people who want to learn how to make their own pottery.



Mr. Morrison showed us many of the pieces of pottery for sale in their gift shop and then took us in the up the stairs and into the classroom where each station has a potter's wheel for hands-on instruction and learning.

Then he took us into the room where all the student's pieces are worked after they were created on the wheels and stored while they are working on them.


Check The Rainforest website www.rainforestpottery.com for more information, classes and photos.
---
2. Schellenberg Pottery — Kirk Avenue

Left: Sue & Jeanine in their workroom with some of blank garden tiles they had laid out for the visitors
to design using the designs on the little white molds on the table.

Right: Sue creating a bowl on her potter's wheel.
She loves what she does.



Sue's website: www.schellenbergpottery.com — which has more information and a gallery of her designs.


Sue and Jeanine in their gift shop.
---
3. Driediger Pottery — 41640 Yarrow Central Road



Ted just finished the last of these jugs and lanterns on his potter's wheel. He showed us his large kiln and the shelves of finished jugs and lanterns which he will be selling at various shows and gift stores this summer as well as from his own gift shop at the front of his studio.
---
4. Kae Sarich Fused Glass — 41520 Yarrow Central Road
---
5. Inspired Arts and Gifts — 42333 Yarrow Central Road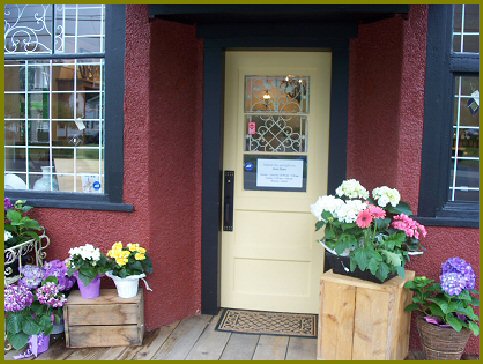 Gift Shop
Corner of Yarrow Central Road and Community Street


Check out their website: www.inspiredartsandgifts.com for the names
of all the local artisans whose products you may purchase
at this wonderful shop run by the three beautiful Yarrow ladies in this photo.
---
6. Solstice Pottery — 4580 Community Street
Check out Trudi's web page www.solsticepottery.com for more information
Trudi Martens' pottery is available at
Inspired Arts and Gifts — 42333 Yarrow Central Road.




---
7. Wilson Road Pottery — 4604 Wilson Road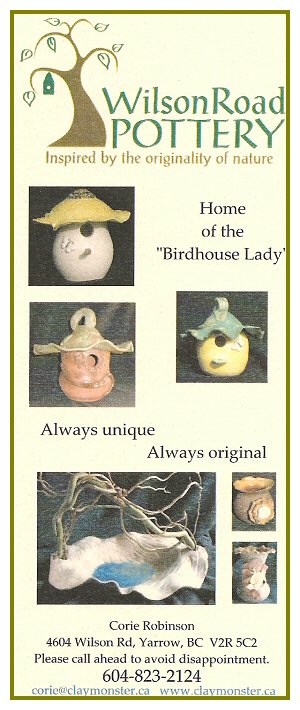 It was getting late ... we thought we might be too late, but Corie invited us in and told us about her pottery shop. She wanted me to tell you that she is known as the Yarrow "Birdhouse Lady."

I tried to get a good photo of the bird houses ... they are truly beautiful and very unique ... To me they look like perfect homes for birds ... the eggs and tiny birds would be safe from neighbourhood cats and crows in these beautiful bird houses.
---
8. Funky Junque Interiors — 42560 Devon Avenue


We ran out of the time and the CLOSED sign was up.
I checked out their website ... it looks like we really missed a neat place ... so we will be sure to get there before closing time on the next tour.

Check out their site: www.funkyjunqueinteriors.blogspot.com
---
9. Vedder Mountain Grille — Yarrow Central Road
We were tired and hungry ... where did we go?
The Vedder Mountain Grille ... In downtown Yarrow ...
It definitely is better at the Vedder!
While we were at the Vedder Mountain Grill, Trudi & Len Martens of Solstice Pottery, and a teenaged boy and girl came in to have dinner too. Len sure does look like his father, Aron Martens. He said he was still a small child when their family left Yarrow. The Martens family comes from the same place in Russia as my Mom's family and I think they lived together on a large farm in Manitoba before coming to BC.
---
We had a really great time visiting the studios and people in Yarrow ...
We will be back ... probably for the next Yarrow Days in June.

See you there!