Yarrow, British Columbia

Edited by
Esther Epp Harder, Edwin Lenzmann, and Elmer Wiens
Biographies and Obituaries
TOEWS, Margaret Peters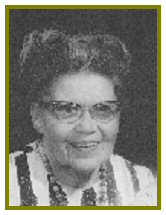 Margaret Peters Toews died Mar. 29 2005.

She was born Sept. 26, 1910 to Maria and Johann Peters of Friedensfeld, Russia.

In 1924 the family emigrated to Herbert, Sask., where she worked for relatives. In 1929 she moved to Winnipeg.

She was baptized, joining the MB church. She took cooking classes, a trade she followed for the rest of her life.

In 1930 she joined her parents in Yarrow, B.C. and formed the Yarrow Girl's Club. She moved to Vancouver, joining other young Yarrow women at the Vancouver Maedchenheim. She worked in private homes, colleges and various institutions.

In 1960 she moved to California. She married widower Henry Toews. They lived in Plinada, Fresno and Clovis and enjoyed travelling in their motor home. Henry died in 1978.

Nieces and nephews attending Fresno Pacific College and MB Biblical Seminary enjoyed her home-cooked meals.

Her signature was driving around in a giant Cadillac that she and Henry had shared.

In 1990 she moved to Clearbrook, B.C., where she continued to minister to others.

The funeral was Apr. 2 in Columbia Bible College with James Toews ministering.
| | |
| --- | --- |
| | Copyright © Elmer G. Wiens: EgwaldTM Web Services All Rights Reserved. Inquiries |