Yarrow, British Columbia

Edited by
Esther Epp Harder, Edwin Lenzmann, and Elmer Wiens
Biographies and Obituaries
NEUFELD, Sue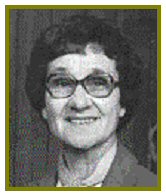 Sue Neufeld died May 30, 2005.

She was born June 22, 1926 in Russia. The family immigrated to Canada, settling in Drake, Sask.

She placed her faith in Jesus Christ as Saviour at 14. When she was 16, the family moved to Yarrow, B.C.

She was baptized in June 1943, joining Yarrow MB Church. She moved to Vancouver at 20 to work in a sewing factory.

She was involved in ministry at Pacific Grace Mission and began working there full-time in 1954. She served Christ in bringing many children, youth and adults to faith in Jesus, and disciplining them.

When Pacific Grace became a Chinese MB Church, she worked at Vancouver Post Office.

She joined Richmond (B.C.) Bethel Church, serving there and becoming known as "Granny Sue."
| | |
| --- | --- |
| | Copyright © Elmer G. Wiens: EgwaldTM Web Services All Rights Reserved. Inquiries |