Yarrow, British Columbia

Edited by
Esther Epp Harder, Edwin Lenzmann, and Elmer Wiens
Biographies and Obituaries
NACHTIGAL, Abram
Abram Nachtigal was born in 1876 in the Molotschna Mennonite colony of South Russia and lived there until the family immigrated to Canada in 1924. Though he was an elementary school teacher for a number of years and later managed one of the forestry service camps established as an alternative to military service for Mennonite young men in Czarist Russia, he is best remembered for his service in the church. As a preacher he was an effective evangelist, at times itinerating within Mennonite communities both in Russia and Canada. He also served as counselor and youth worker within the church.

In Russia Abram Nachtigal was a church leader in the Allianz church. (This denomination existed in Mennonite Russia at the beginning of the twentieth century. It should not be confused with the Christian & Missionary Alliance.) In Canada most Allianz members, including the Nachtigals, identified as Mennonite Brethren.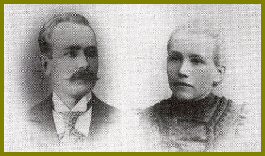 Abram and Marie Warkentin Nachtigal

Abram Nachtigal had six children with his first wife; she passed away in 1913. As with all Russian Mennonites, the Nachtigals suffered greatly in the aftermath of World War I and the Russian Revolution. The famine of the early 1920's was especially hard on the family. Nachtigal claimed that had he not been able to follow the doctor's order to eat a small amount of white bread each day during a 19-day stomach ailment in 1921, he might have succumbed. White bread was a rare commodity during the famine. On one occasion, unaware of his plight, a husband and wife had sensed God instructing them to deliver their meager ration of white bread to Nachtigal.



Abram and Frieda Noeg Nachtigal

But the second mother, who had brought two daughters from an earlier marriage into the home, and with whom he had an additional four children, was not as fortunate. She died in 1923. Disease and starvation together with the absence of adequate medical care likely contributed to her passing. Later that year a third marriage followed.



Abram and Annie Dick Nachtigal

Later that year a third marriage followed. In Canada, the family settled in the Arnaud area, south of Winnipeg, MB. During some of the ten years the family was in Arnaud, Nachtigal served as leader of the local Mennonite Brethren Church. With retirement approaching, and desirous of a milder winter climate and the opportunity to grow fruit, the Nachtigals relocated to Yarrow, BC in 1935. While some of the children remained in Manitoba, the others ended up in Yarrow as well or in other parts of BC. In Yarrow the Nachtigals lived near the end of Stewart Road and later across the road from the co-op building. For two years (1935-37) he taught in the Elim Bible School and served the local and neighboring MB congregations where needed and as health permitted. In 1950 he passed away.

During the 1950's Mrs. Nachtigal lived at the corner of Central and Dyke Roads and later at 1013 Central Rd. We remember her as a kind and friendly lady who loved children. She passed away in 1965.

Four of the Nightingale children lived in Yarrow for extended periods. ('Nightingale' was the surname the family adopted with the language transition.) They were the Peter & Agnes Nightingale (with Elfrieda, David, Florence, and Larry); Lydia & John Esau (with Tom and Cary); Frieda Nightingale who taught many of Yarrow's children in the 1940's and 1950's and had the school choir; and David & Anne Nightingale (the youngest) who left Yarrow soon after their marriage in 1950 and served in missions in South America and in pastorates in Canada and the U.S. (Many years later their children, Jim & Marilou Nightingale, pastored the Yarrow MB Church.)

[Further information on the family is found in Die Hungersnot in Russland u. Unsere Reise um die Welt (D.M. Hofer), pp.211-12, 276-77 and Hearts Set on Pilgrimage (David Nightingale)]



GAMEO BIOGRAPHY


Harder, J. A. "Nachtigal, Abram (1876-1950)." Global Anabaptist Mennonite Encyclopedia Online. 1957. Global Anabaptist Mennonite Encyclopedia Online. Retrieved 15 December 2009
| | |
| --- | --- |
| | Copyright © Elmer G. Wiens: EgwaldTM Web Services Ltd. All Rights Reserved. Inquiries |