Yarrow, British Columbia

Edited by
Esther Epp Harder, Edwin Lenzmann, and Elmer Wiens
Biographies and Obituaries
KNOX, Henrietta

Henrietta Knox

Henrietta (Etta) Knox of 4556 Harder Rd., Yarrow died March 4, 1982 at Chilliwack General Hospital.

Funeral service was held March 8, 1982 in the chapel of Henderson's Funeral Home. Rev. J.T. McNair officiated.

Henrietta (Etta) Kirkpatrick was born January 11, 1902 at Rodney Ontario and came to Yarrow as the bride of Marshall Knox in June 1930. Etta lived in Yarrow for 55 years.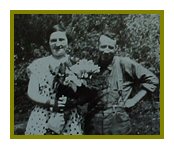 She is survived by two daughters Ethel & Edith Knox of Yarrow. She was predeceased by her husband George in 1959.

Pallbearers were Fred Currie, Pete and Nick Williams, Dave Giesbrecht, Gerald Letkeman and Bill Schellenberg.

Burial was at the Anglican cemetery.

Chilliwack Progress Chilliwack, BC
| | |
| --- | --- |
| | Copyright © Elmer G. Wiens: EgwaldTM Web Services All Rights Reserved. Inquiries |