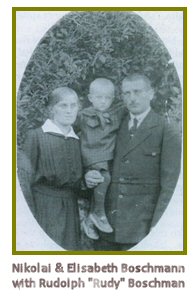 Elizabeth "Liese" Klassen Boschmann of 32945 Marshall Road, Abbotsford died February 20, 1980 at the age of 78. She was born in in Russia and came to Canada in 1926 and lived at Whitewater, Manitoba until moving to Yarrow in 1931, she had resided in Abbotsford since 1971.

Elisabeth Klassen was born in 1901 in South Russia. Her parents were Johann & Anna (Penner) Klassen. She married Nicholas Boschman on April 17, 1922 in South Russia and came to Canada in 1926. Nikolai and Liese immigrated to Canada in October, 1926 with 3 year old Rudy.

They arrived at Rosthern, SK., and then moved to Whitewater, MB in 1927 and in 1932 to Yarrow, BC. Liese was predeceased by her husband Nicholas in 1971, she is survived by one son, Rev. Rudy Boschman of Clearbrook; one daughter: Annie Koop of Abbotsford; eight grandchildren; 10 great-grandchildren and one brother Rev. David Klassen in South Russia.

Funeral service was held Saturday February 23, 1980 from the Sevenoaks Alliance Church, Pastor William Goetz and Rev. Rey Nickel officiating. Interment followed in Yarrow Cemetery. Pallbearers were Rudy Boschman, Ron Koop, Henry Koop, Stan Ratzlaff, Wes Koop and Rick Falk.