Yarrow, British Columbia

Edited by
Esther Epp Harder, Edwin Lenzmann, and Elmer Wiens
Biographies and Obituaries
BOROWSKI, Waldemar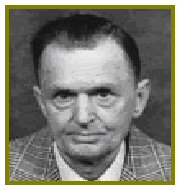 Waldemar Borowski died Sept. 21.

He was born Sept. 27, 1932 to John and Lydia Borowski in Nikolaipol, Russia.

The family immigrated to Germany before WWII and came to Canada in 1949, settling in Yarrow, B.C.

Waldemar received Jesus as Saviour in his youth. He loved to read and memorize Scripture. He was baptized on July 20, 1952 and became a member of Yarrow MB Church.

He lived with his parents until moving to Clearbrook, B.C., where he became a member of Clearbrook MB Church. He loved his Lord and attended worship services, Bible studies, and prayer meetings as long as his health allowed.

Predeceased by 1 brother; he is mourned by his brother Bill; nephews Pete (Kari) and Steve; great-nephews Colton and Devin.

The memorial service was Nov. 3 at Clearbrook MB Church.
| | |
| --- | --- |
| | Copyright © Elmer G. Wiens: EgwaldTM Web Services All Rights Reserved. Inquiries |