Chilliwack Progress: Wednesday, April 23, 1963.
Mr.& Mrs. Peter P. Martens — 60th Anniversary Held A Month Early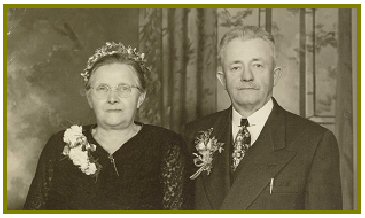 Easter Monday was the date chosen by Mr. and Mrs. Peter P. Martens of Yarrow to celebrate their diamond wedding anniversary. Although May 15 is the actual anniversary, the earlier date was selected in order that their family could be present.

More than 350 persons attended the church service and the program held in the Mennonite Brethren Church with Rev. Henry Brucks and Rev. David Wiens of Vancouver officiating.

Mr. and Mrs. Martens were married in South Russia near the Black Sea. Mr. Martens was a storekeeper. During World War One he was manager of a Red Cross warehouse, supplying hospitals and trains which brought the wounded from the battlefields.

The family moved to Ontario in 1925 and to Coaldale in 1927. They farmed there until 1942 when they moved to Yarrow.

Until he retired, Mr. Martens was a berry farmer in the district. They have four sons and four daughters: Helen Martens, at home; Mrs. Lydia (John) lsaak of Yarrow; Mrs. Henry Walde of Chilliwack; Mrs. J.B. Janz of Vauxhall, Alberta; Peter W. Martens, and John Martens, both of Abbotsford; David Martens of Aldergrove and Walter Martens of Vancouver. They have 31 grandchildren and 16 great grandchildren.

Taking advantage of the school Easter holidays, Mr. & Mrs. Janz and their six children arrived on Thursday to attend the celebrations. Mrs. Anna Wieler of Winnipeg, Mrs. Martens' sister-in-law also attended the affair.

Among the messages of congratulations were those from the Lieutenant Governor of British Columbia; Kenneth Kiernan, MLA for this district and relatives on the Prairies.