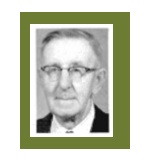 Daniel Goertz

Daniel Goertz of Clearbrook died February 26, 1985 at his residence at age 91. Mr. Goertz resided in Yarrow for 40 years and was predeceased by his wife Agatha. He was a retired farmer.

Daniel Goertz was born August 2, 1893 to Daniel H. and Elizabeth Goertz in Ischalka, Neu-Samara, Russia. In 1912 Daniel and his brother Nick immigrated to Georgia, U.S.A. and in 1913 to Dalmeny, Saskatchewan to join the rest of the family who had also immigrated.

He was baptized in 1916 and joined the Dalmeny M.B. Church. In 1928 the Goertz family moved to Yarrow, B.C. and Daniel became a charter member of Yarrow, M.B. Church. He sang in the choir for many years and was a member of a quartet, which gave him much joy and satisfaction.

In March 1934 he married Agatha Derksen and they farmed together in Yarrow for the next 33 years. Four children were born to them Elmer, Walter, Lottie and Ruby.

In 1973 they moved to Clearbrook, B.C. and joined the Bakerview MB Church. After Agatha's death in 1977, Daniel moved to the Sherwood Home in Clearbrook.

He is survived by two sons, Elmer of Clearbrook,and Walter (Joan) of Victoria; two daughters: Lottie (Terry) O'Malley of Kelowna and Ruby (Cliff) Mayoh of Illinois; four grandchildren and one sister, Mary Neufeldt of Clearbrook.

Funeral service was held on Saturday March 2, 1985 from Bakerview M.B. Church with Pastor Harry Heidebrecht and Pastor Helmut Janzen officiating. Active pallbearers were Elmer Goertz, Walter Goertz, Clifford Mayoh, Terence O'Malley, Henry Nickel and Danny Goertz. Woodlawn-Henderson Funeral Home was in charge of arrangements.

Burial was held at the Yarrow Cemetery.